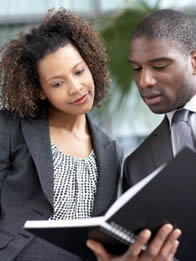 Mobile Choice® is a competent corporate establishment that provides marketing and distribution opportunities for telecommunication service providers. With authorization from the telecommunication service provider, we have the capacity to manage the distribution of specific consumer products. With our current operations covering all the 10 regions of Ghana, we have been able to establish a well structured marketing and distribution system that is solidly in touch with all levels of telecommunication service users. Our current dealership service is a successful working relationship with MTN Ghana and i-mate™ which are testimonies of our reputation. Our wide range of services is a reflection of the experience that is drawn from a very dedicated and professional management team.

The integrated communication services offered by Mobile Choice® are specifically and periodically tailored to suit the dynamic Ghanaian market- from individual, retail to large corporate clients in partnership with leading telecom service providers from Africa and Europe. The core of our business includes the following services:

Nation-wide Distribution of MTN SIM and Recharge Cards
As an authorized dealer of MTN Ghana, Mobile Choice® efficiently manages the distribution of MTN SIM cards for connecting new subscribers to the network and Recharge cards/vouchers for existing users to either reload or top up their call credit. Our wholesale distribution network addresses the business needs of a large number of retailers who are directly in touch with existing and potential MTN subscribers across the country. At Mobile Choice®, we recognize the importance of every single client and have good systems in place to ensure the best of customer service and comfort.

Distribution of i-mate™ Smartphones & Pocket PC's
We are happy to announce that Mobile Choice® is currently the major distributor of i-mate™ Smartphones & Pocket PC's in Ghana. The full range of third-generation (3G) i-mate™ mobile devices are incorporated with Internet access capabilities (GPRS), Microsoft® Windows Mobile® software, Multimedia features, High resolution display, Connectivity (Bluetooth & Infrared), expandable Storage features and many more. They also come in different models, shapes and colours. The i-mate™ collection of mobile devices on sale at Mobile Choice®, have been thoroughly tested and approved by various standard testing organisations including Microsoft.
For detailed information on the full array of i-mate™ mobile devices at Mobile Choice®, please click this link. i-mate™

Web Development
Mobile Choice® is a company that is technologically oriented and appreciates the impact of the World Wide Web on business. Our Web Development department is made up of professionals that have acquired a great wealth of experience working on various kinds of projects for different kinds of institutions, communications, hospitality and trading companies. We develop comprehensive websites and database-driven applications that can handle simple to complex business tasks over the Internet.

Desktop & Client-Server Application Development
An integral part of our diverse range of services includes Desktop and Client/Server Application Development. This service incorporates current and emerging development tools and technologies to plan, build and manage computer application software systems that in turn automates various business processes to increase efficiency in your corporate outfit. Our team develops from stand alone to distributed applications that make use of the Client/Server Architecture- our Enterprise Development Strategy. Our current pool of software products includes Point of Sale, Stock and Inventory, Human Resource Management, Accounting and many others. Our development process always guarantees interoperability, integration and quality deliverables across varied platforms.

Web Hosting
The new addition to the Mobile Choice® family of communication services is Web Hosting. Our quality Web Hosting service is a deployed system that supports the following technologies:
- Unlimited Bandwidth
- PHP, Active Server Pages (ASP) and the .NET platform
- Flash MX
- ODBC Connections
- MySQL, Microsoft SQL Server and Microsoft Access
- Personalized E-mail accounts and configuration
- Domain name registration

Network Administration
Many corporate establishments now run many of their computerized tasks in a networked environment in order to control and share resources and critical information inside or across various premises of an organisation. Our technical support team designs, develops and administers mission critical computer networks for various firms. We indeed have the capacity to integrate both the Windows and Linux platforms based on the Client/Server architecture to serve various network services in your organisation.

We professionally manage these networks to support Controlled User Access, Security, Database Management Systems, Messaging services, Remote Access, Fault Tolerance, Internet Connectivity and General Maintenance of the whole computer network infrastructure. Another area of expertise on which we focus our energies is the provision of wireless communication infrastructure to enable organisations delivers the best in high-speed Internet connectivity across their premises and branches.